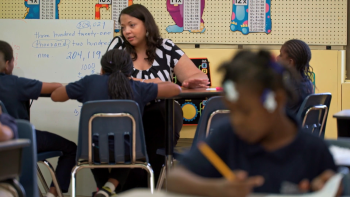 "My children started the New Standard in 2015. My son was in the 2nd grade ( Ms.Vitek) at that time, and my daughters were in Pre-k ( Ms Fisher) and kindergarten (Ms Bennett).
My children had had a rough time before starting school. The  past teachers were amazing. They all acted as the children were family not students. The children are now in fourth, second, and first grade. The teachers and staff at the new standard cannot be beat! This is the best school my children have attended. The teachers don't treat students as students attending a school but family members. This is the only school I have seen teachers giving hugs before and after school. Children saying they love school and want to attend even if they don't feel good.
I want to give a special thank you to the following teachers who have taught my children to do their best and succeed in what the do...(Mr.Black, Ms.Fisher. Ms. Angie. Ms Bennett..Ms Vitek.. Ms Snaden/Helios.. Ms. Martinez.. Mr Brooks.. Ms Essix and Ms Lynch. Also, Grandma and Grandpa from the kitchen and Dr. Currie and all the other teachers of The New Standard. Thank you for being the BEST TEACHERS in the BEST SCHOOL."